◼️INFORMATION
"BUNNY FEVER!!! 戸越八幡神社 × MADBUNNY "
July 1, 2023 – August 31, 2023
9:00 AM – 4:00 PM
At Togashi Hachiman Shrine
Address: 2-6-23 Togoshi, Shinagawa-ku, Tokyo 142-0041, Japan
https://togoshihachiman.jp/
MADBUNNY Installation At Togoshi Hachiman Shrine (Tokyo), a shrine with a 500-year history.
Contemporary artist active in London, Berlin and Paris.
The art installation  by MADBUNNY will be held from 1 July to 31 August at the centuries-old shrine.
We look forward to seeing you there.
◼️MADBUNNY・Artwork
Q : How was MADBUNNY born? And Why rabbits?
A : In 2004, when I was up all night preparing for my London solo exhibition,
I vaguely saw a skull and a rabbit's face. I must have been tired. Laughs.
MADBUNNY was born at dawn.
Thanks to this work, I was recognised all over the world and MADBUNNY became my signature piece.
My style is often based on the theme of 'life and death',
Many of my works have 'life and death' hidden within them.
The rabbit is the most fertile animal on earth, so I wanted to create an image of 'life'.
The image of 'death' is created by hiding a skull image inside a very cute rabbit.
It is a deceptive picture in which these world views coexist.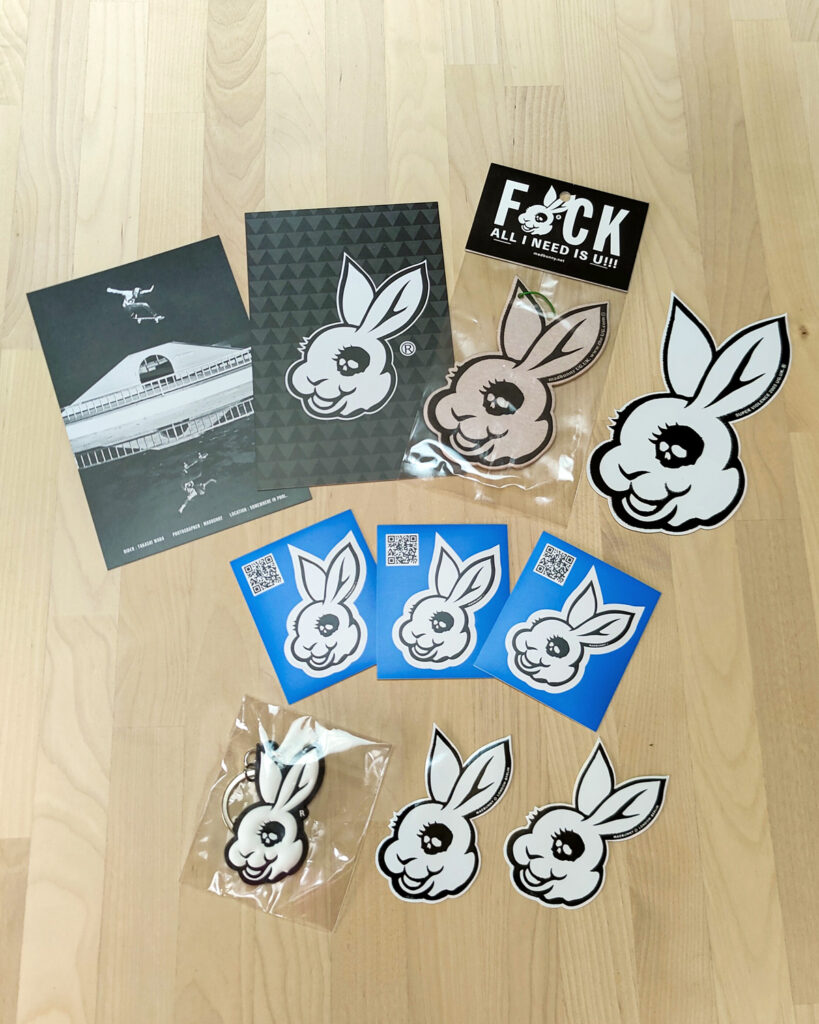 Q: How did you get involved in MADBUNNY's art decorations at major festivals around the world?
A : I've been active in the world of skateboarding and snowboarding since I was a kid, travelling the world and started my own design company 25 years ago.
I still work in apparel, photography and film, but since I was a teenager I wanted to compete in the world as an artist,
I started living and working in galleries in London and Berlin 25 years ago.
When I was part of a large contemporary gallery in London, I was approached by a British art team that has worked on some of the world's most prestigious festivals,
In 2011, I began my career as a full-fledged member of that London Art Team, expressing myself at festivals.
◼️Collaboration with Togoshi Hachiman Shrine
Q: What attracts you to Togoshi Hachiman Shrine?  And Why did you choose Togoshi Hachiman Shrine?
A : First of all. I was attracted to the fact that there is a rabbit (Yumekana Usagi) in the shrine.
There are sofas in the shrine grounds to relax on, and I also felt an atmosphere similar to a foreign café,
I also felt that the long approach to the shrine and the abundance of large trees was like the streets of Europe, where I lived, and I felt that it was a wonderful space.
I think it's great that the local people have loved it for so long.
Also I've been playing in a band for 35 years now,
I think the presence and cooperation of Jesse (Rize / The Bonez), who is a local of Togoshi Hachiman Shrine, was very important.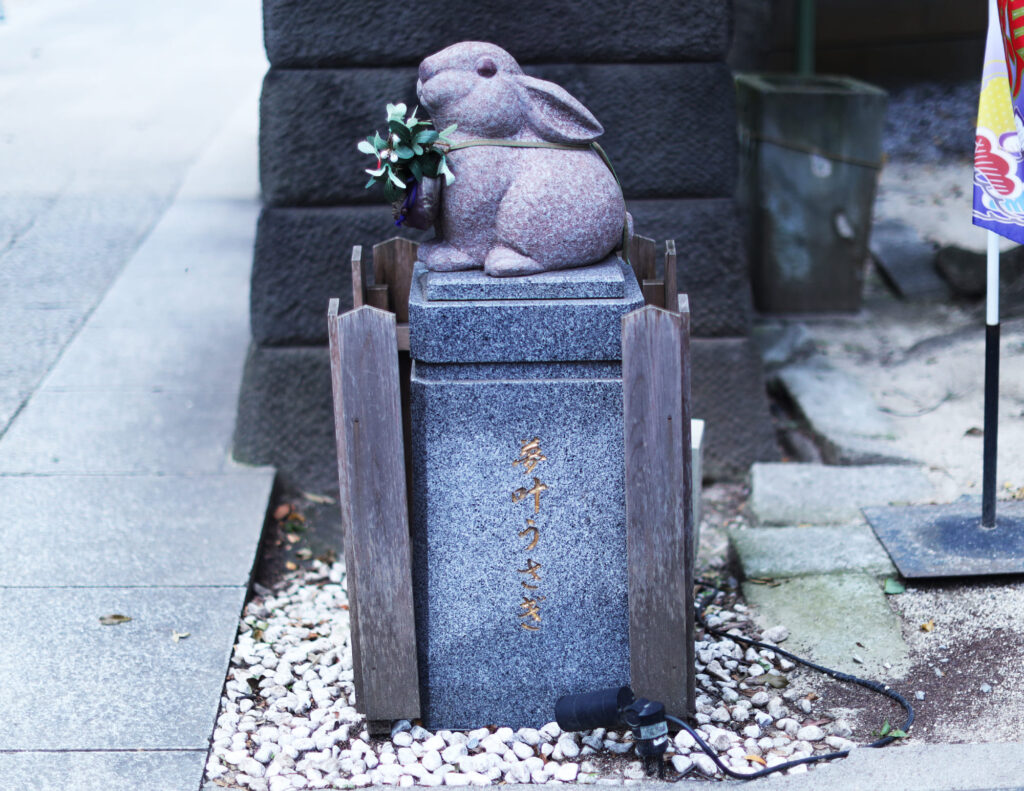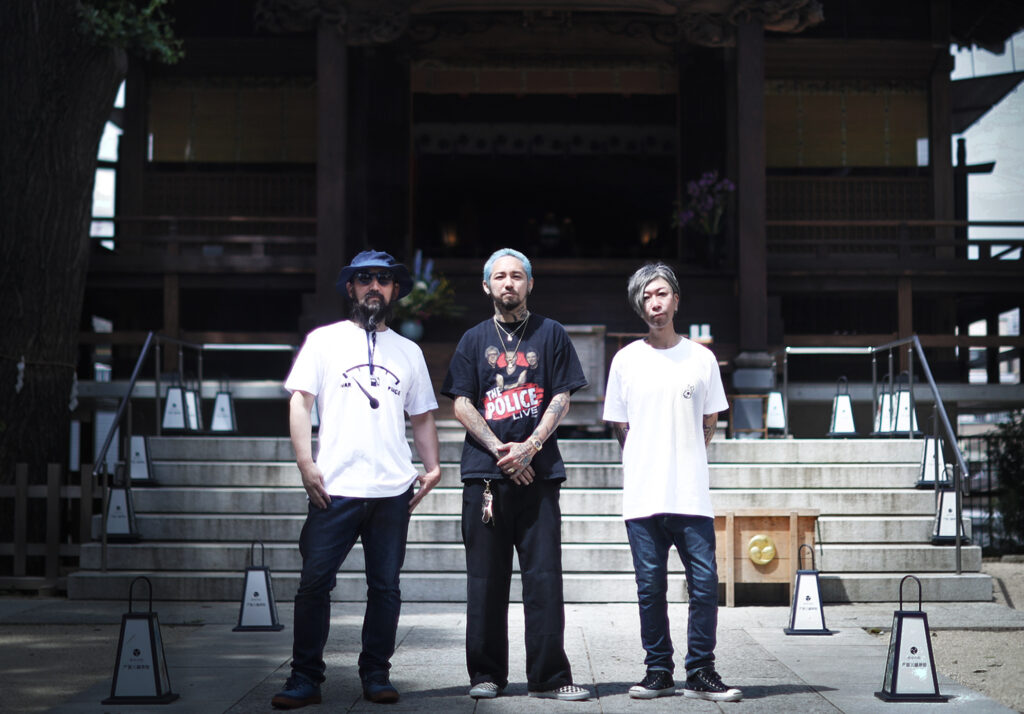 Q: What went into the design of the amulet, ema and wooden tag?
A : I have been involved in skateboarding, snowboarding and music culture for a long time now.
The name 'Jumping talisman' comes from the idea of taking a leap like a rabbit,
It's important to always land when you jump.
Of course, landing on the ground as a competition is also important.
We are artists who tour all over the world for a living.
I hope that we, and artists like us who live and tour the world, will be able to return  and (land) safely back to our families! That's my concept.
We also designed a ribbon rabbit for the "Sachi Usagi".
The ribbon rabbit is also a famous icon at USAGI ONLINE,
I found out that the 'Yumekana Usagi' of Togoshi Hachiman Shrine is also said to be a rabbit that brings happiness, and said to bring happiness to visitors to Togoshi Hachiman Shrine.
The colour is wisteria, inspired by the feminine form of the 'Yumekana Usagi'.
It is for women who are waiting anxiously for men (husbands and boyfriends) who fight outside like us, while protecting their homes.
The amulet is woven in Fukui Prefecture's arts and crafts 'Echizen weaving',
The finish of the weave is finer, more delicate and beautiful than normal textiles.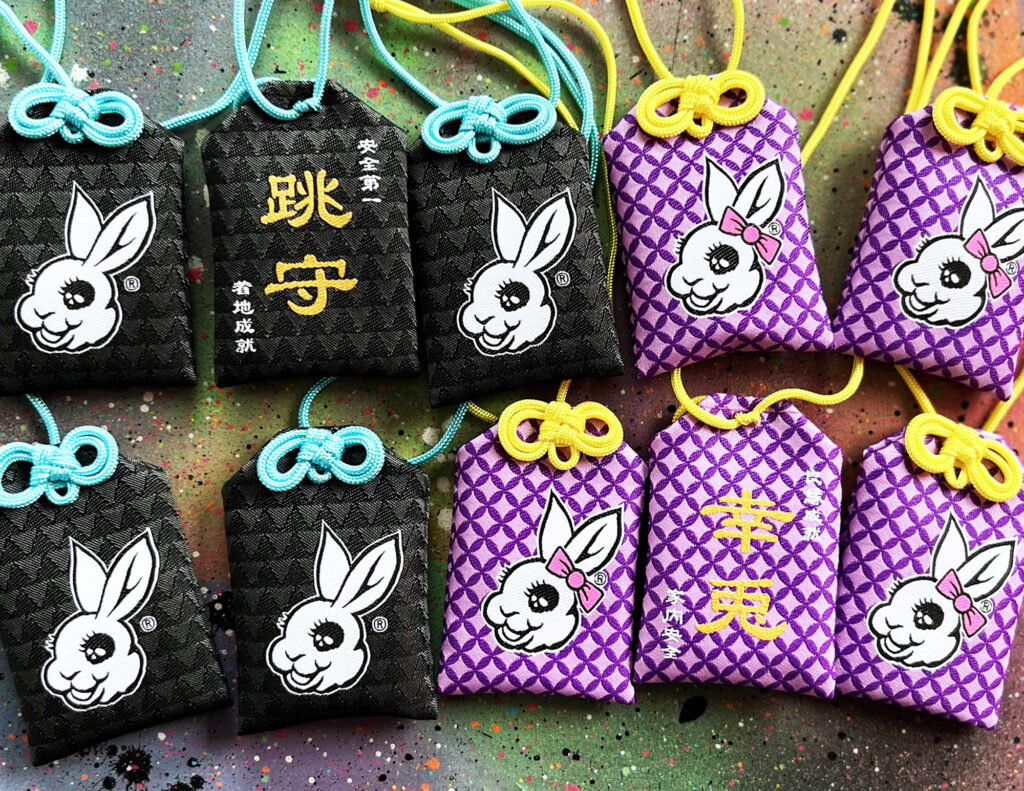 About the ema and wooden talismans
BUNNY FEVER, a colourful bunny piece that has been displayed at major festivals every year for the past 13 years
BUNNY FEVER was the best motif for a wooden ema as it was made of wood and inspired by a rabbit in the forest.
The pattern of the pants was changed to stripes, as requested by Togoshi, and we made the image more like thunder.
It is made of Japanese cypress and smells fabulous.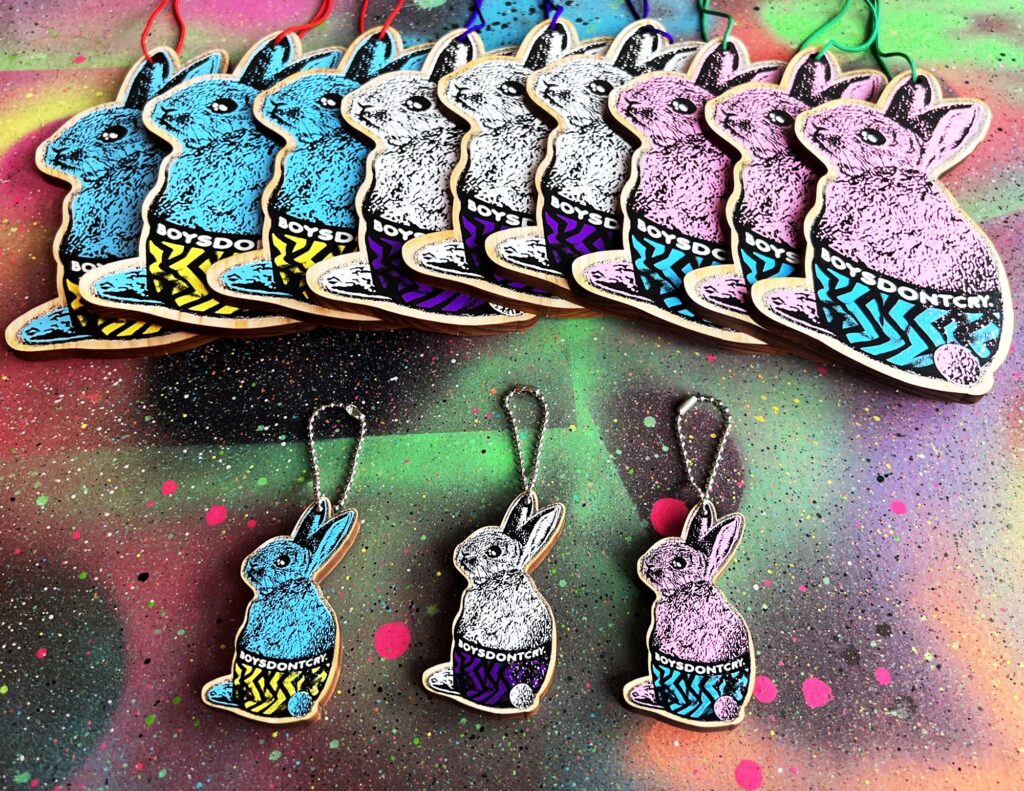 Q : What feelings or messages would you like to convey to people through this project?
A : I think it is wonderful that we can use a sacred place like a shrine to do an art expression (installation).
In Japan, I think that in recent years there has finally been an increase in opportunities for people to feel closer to art,
In Europe (London and Berlin), where I (MADBUNNY) am based, the streets have always been full of art expression,
art shows and music events are held in churches and other places on a daily basis.
And above all. I think it would be great if everyone could feel and enjoy the free expression of art and the Togoshi Hachiman Shrine
with its long history is the perfect place for it to be held.
I can only be thankful for the sensitivity that hooked up my artistic expression with this 500-year-old Togoshi Hachiman Shrine.
Ladies and gentlemen. We hope you enjoy Togoshi Hachiman Shrine Art Festival.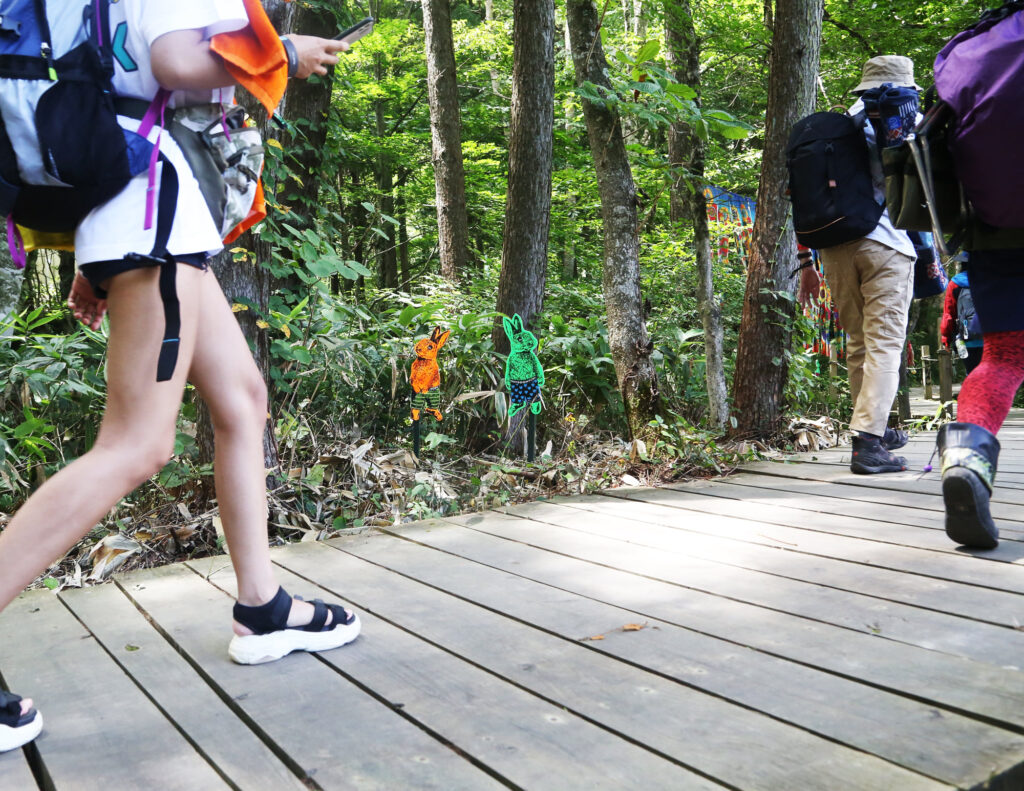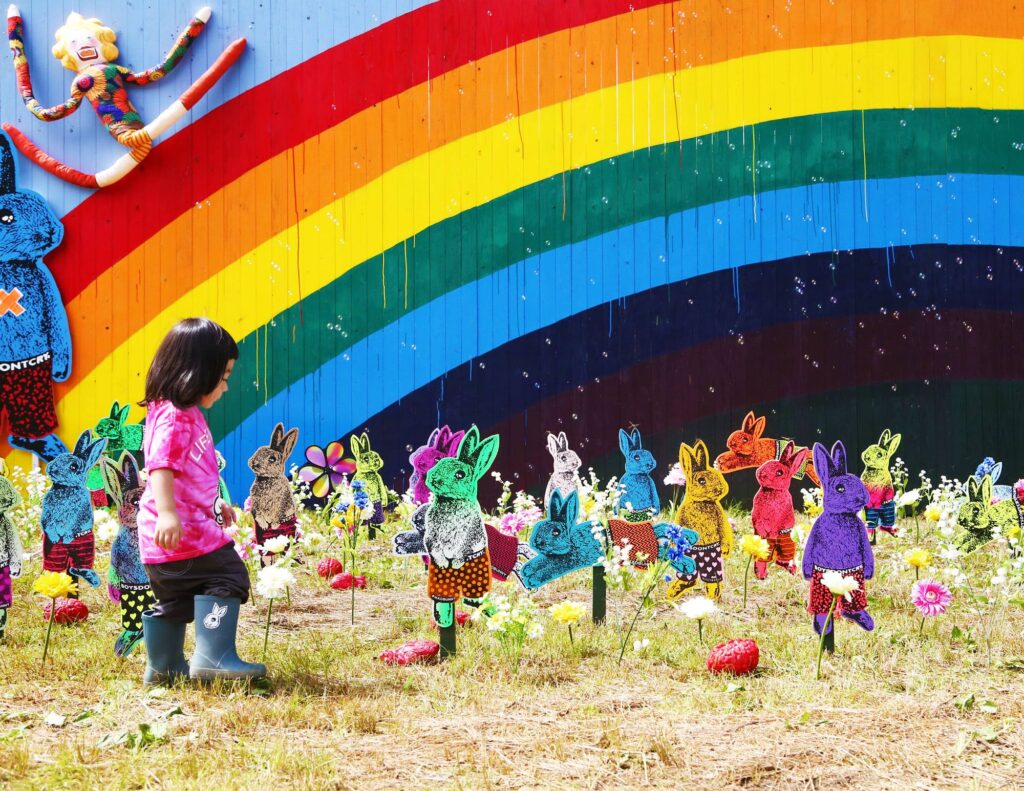 ◼️ARTIST Profile
MADBUNNY®︎
MADBUNNY has lived and worked as an artist in London, Berlin and Paris since 1998
He is constantly receiving offers from all over the world,i ncluding Europe, the USA and Japan,
Since his first solo exhibition in London in 2005,h e has held more than 140 solo exhibitions worldwide
The apparel brand he art directs is 25 years old
His expressive activities transcend the genres of art, photography,d esign and apparel
Still remains underground
・Official website
http://www.madbunny.net/
・instagram
https://www.instagram.com/m_a_d_b_u_n_n_y/
◼️Cooperation Company
Jinja Bukkaku Online Co., Ltd.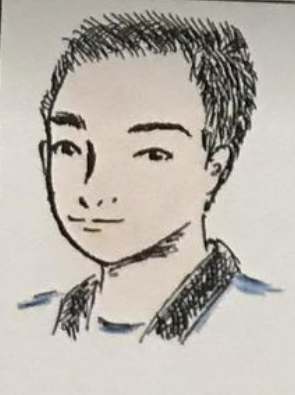 かわら割道場の道場師範。
戸越商店街ウォーカーとして、商店街を食べ歩いています。
戸越生まれ、戸越育ち!
【戸越銀座のおすすめ店舗】